The excellent professionals of Garage Door Repair Maywood assist customers with dignity and attention. We provide garage door but also gate services and this way we handle all your problems. Our company has experienced technicians for the services of both mechanisms and the right tools. We are fully prepared to serve you knowing the requirements and specifications of each system and by following all safety regulations. Our teams consist of specialized technicians with skills and huge knowledge of all opener systems. People can feel reassured and safe with our work because it aims at fixing problems at once and in the best way.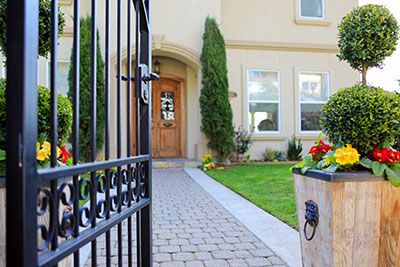 Exceptional gate services by dedicated teams
We offer a plethora of services related to all gates and their parts. Our technicians are not only knowledgeable of electric operators but also of gate intercom systems and so they are the best choice for all needs. These are a few of the services we provide:
Gate intercom service
We service the existing phone entry system and find great solutions for those interested getting a new one now. We take pride of the great and expert knowledge of our technicians and we can assure you that their help will be invaluable. We offer great intercom repair and thanks to our expertise, we are perfect installers.
Gate clicker replacement
Our teams provide emergency services when there is something wrong with the gate clicker. We move fast in an effort to eliminate remote issues as soon as possible and if they are not fixable, we immediately replace the remote.
Sliding gate operator repair
We fix issues with the operator at once. If the problems are related to the sensors, you can count on our expertise and emergency contractors. We are available for troubleshooting, to fix gate motor problems and check every part of the opener system. We provide equally excellent preventive service and are here for all your needs.
Swing gate post repair
We repair problems with the foundations of the post and their stability. Since they are the support of the gate, posts ought to be strong, in good condition and installed properly. We fix problems and have the experience to replace them if they are damaged.
Maintenance service
We maintain all gate systems and their operators. Thanks to our meticulous work, the mechanism will operate smoothly and properly. We are available for same day maintenance and are excellent when it comes to inspections. Our technicians lubricate and check all parts, make sure the gate moves properly with the right adjustments and will replace broken parts.
We take very seriously every problem and provide immediate electric gate repair. We are emergency specialized contractors. Our customers feel safe just by knowing that our response will be fast and damages will be fixed properly. We are available for every need and know how to repair components efficiently. Additionally, we help our customers make decisions, answer their questions and find the most proper solutions.
Our staff is always here for you, so call us any time!